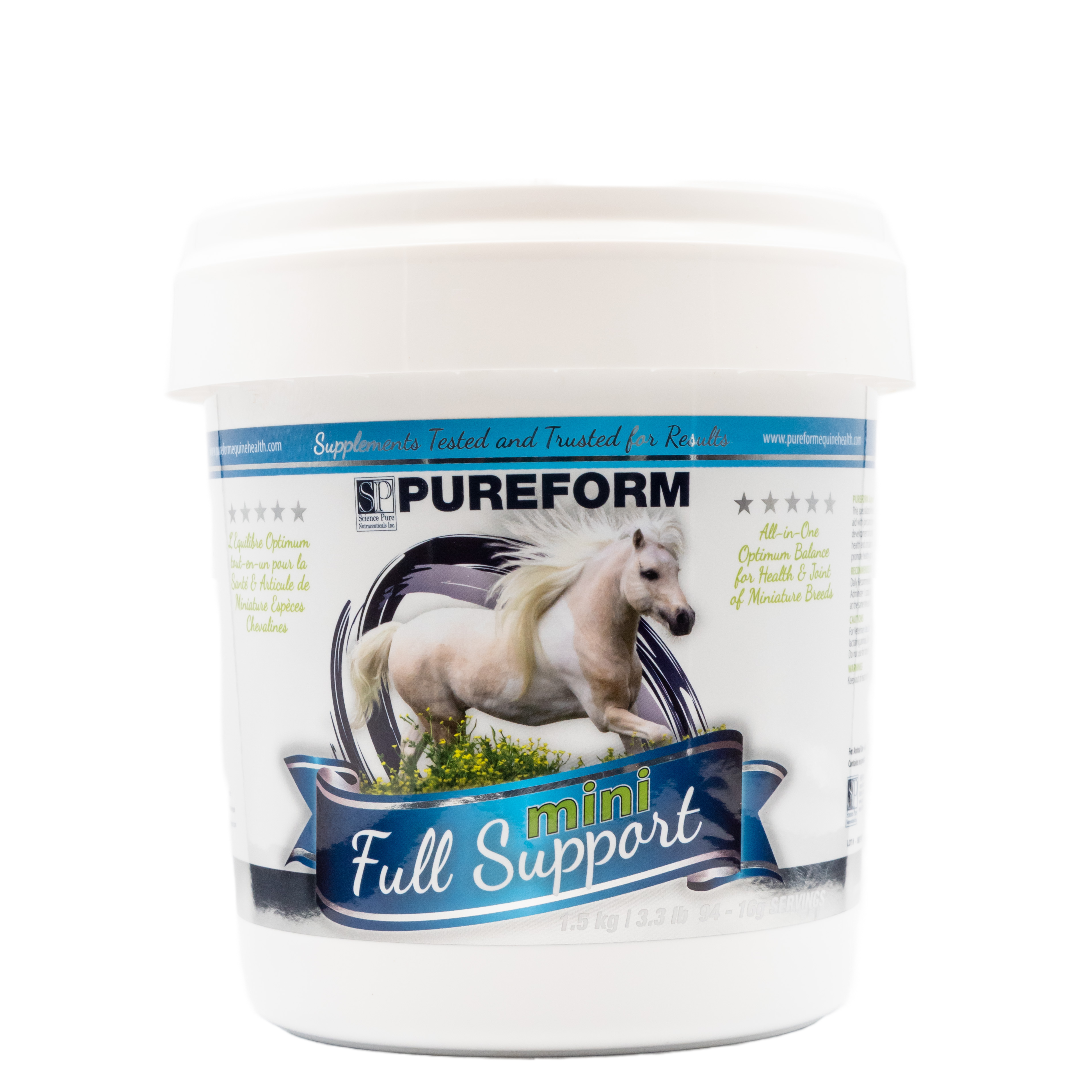 ${data.index + 1}/2
The 1st all-in-one feed supplement formulated specifically for miniature equine breeds
PUREFORM Full Support Mini is a powdered concentrate for miniature equine breeds that will help maintain overall health and well-being. This formula will aid in bone, coat, and hoof health as well as aid in the maintenance of joint, cartilage, tendons, muscle, and digestive health.
Recommended Dose
Daily 1 scoop (4 g) per 110 lbs (50 kg). The average 330 lbs (150 kg) miniature horse is recommended to receive 3 scoops (12 g) per day.
Total daily dose per weight may be split into two servings a day, orally, top dressed.
Ingredients per (12 g) daily
Methylsulfonylmethane (MSM): 2,000 mg / 12 g
Glucosamine hydrochloride: 2,500 mg / 12 g
Betaine HCl (trimethylglycine): 400 mg / 12 g
Methionine (DL-methionine): 400 mg / 12 g
Vitamin C (Calcium ascorbate): 750.2 mg / 12 g
Vitamin A (Retinol): 4.07 mg / 12 g (13,553 IU)
Vitamin D3 (Cholecalciferol): 93 µg / 12 g (3,720 IU)
Vitamin E (dl-alpha tocopheryl acetate): 337.5 mg / 12 g (337.5 IU)
Vitamin K3 (Menadione): 19 mg / 12 g
Thiamin (Vitamin B1): 37.9 mg / 12 g
Riboflavin (Vitamin B2): 19 mg / 12 g
Niacin (Vitamin B3): 60.7 mg / 12 g
Vitamin B5 (D-Pantothenic acid): 75.8 mg / 12 g
Vitamin B6 (Pyridoxine hydrochloride): 18.96 mg / 12 g
Vitamin B12 (Cyanocobalamin): 7.6 mg / 12 g
Folic Acid (Folate): 4.75 mg / 12 g
Biotin: 7.6 mg / 12 g
Choline Chloride: 125 mg / 12 g
Potassium chloride:(act. 125 mg K) / 12g
Calcium (mono-Calcium phosphate, Calcium ascorbate): act. 214.4 mg / 12g
Phosphorus (mono-Calcium phosphate): act. 160.25 mg P / 12g
Sodium Chloride: 492 mg / 12 g
Chromium-enriched yeast: 400 mg / 12 g
Manganese proteinate: (act. 60.7 mg Mn) / 12g
Zinc (Zinc proteinate): (act. 75.75 mg Zn) / 12g
Iron (Iron proteinate): (act. 11.38 mg Fe) / 12g
Copper (Copper proteinate): (act. 27.8 mg Cu) / 12g
Cobalt (Cobalt proteinate): (act. 38 mcg Co) / 12g
Magnesium (Magnesium oxide): (act. 250 mg Mg) / 12g
Selenium (Sodium selenite): (act. 462 mcg Se) / 12g
Calcium iodate: (60.2 mcg I) / 12g
Molasses Powder: 900 mg / 12 g
----------------------------------------------------------------------
Health Canada registration VHP NN.L0F7