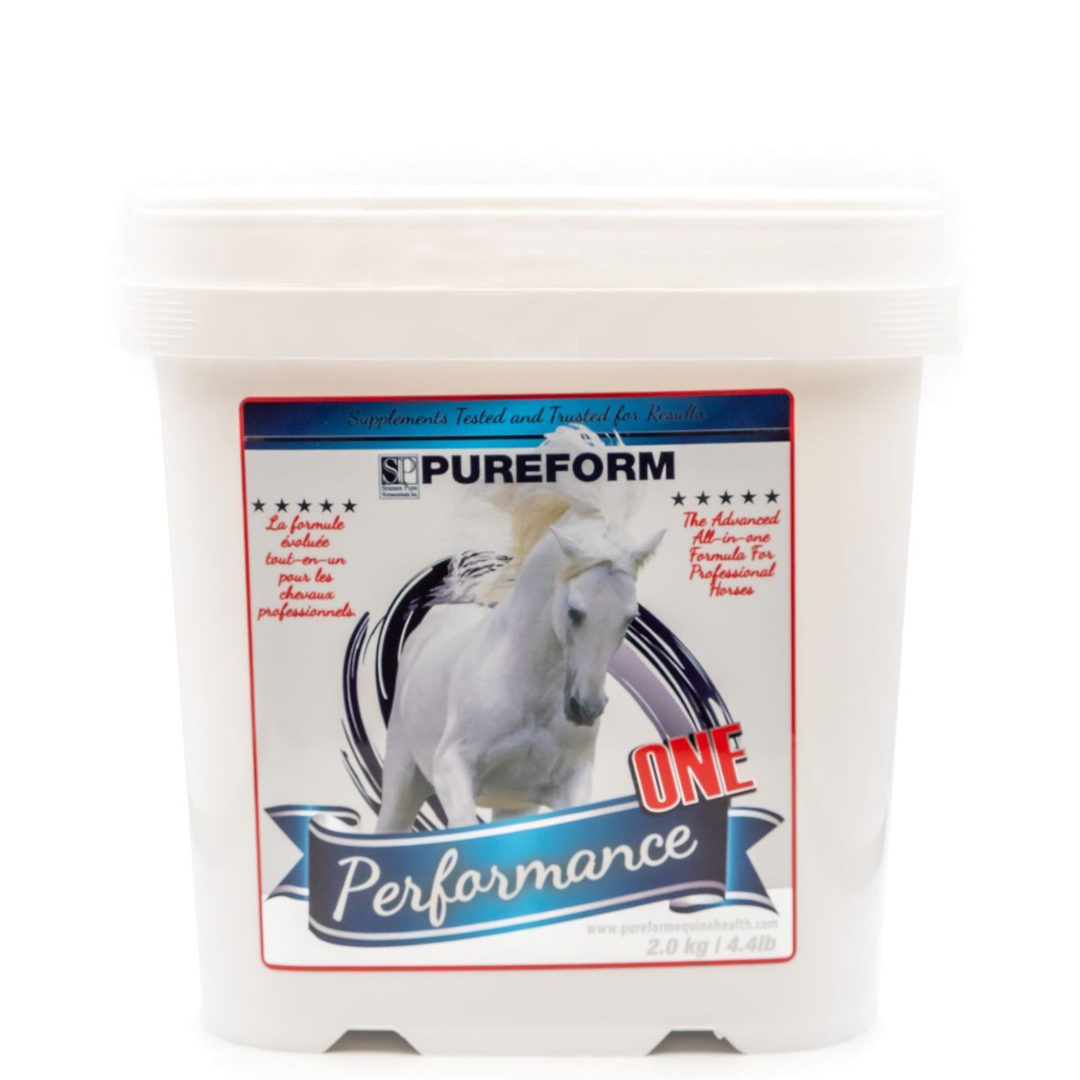 ${data.index + 1}/4
All-in-one competition formula
This equine supplement delivers a power-packed glucosamine / MSM / creatine combination specially formulated to give your horse speed, stamina, focus, and recovery support.
Performance One also contains essential amino acids and antioxidants, as well as complete vitamins, trace minerals, and electrolyte supplements.
This product is ideal for true equestrian sport competitors. In fact, it is extremely popular with the top-level Canadian and US champions of the following disciplines:
Racehorses (Thoroughbred, Standardbred, Quarter Horse)
Grand Prix Show Jumpers
Three Day Eventers
All Rodeo Horse Events
Cutters
Endurance
Palatable to 19 out of 20 horses, this concentrated supplement is an effective drug-free approach to optimal health during competition and travel.
Recommended serving
Daily Maintenance: ½ - 1 level scoop twice per day.
Professional Performance: 1 level scoop twice per day.
NOTE: Do not use another vitamin/mineral concentrate supplement when feeding PureForm Performance One. Salt is always recommended.
Ingredients per (100 g daily)
Creatine monohydrate: 25,000 mg / 100 g
Glucosamine hydrochloride: 11,125 mg / 100 g
Methyl sulfonyl methane (MSM): 11,125 mg / 100 g
Betaine HCl (trimethylglycine): 4,000 mg / 100 g
Glutamine (L-Glutamine): 5,000 mg / 100 g
L-Lysine (Lysine hydrochloride): 1,875 mg / 100 g
Methionine (DL) DL-methionine: 1,500 mg / 100 g
Vitamin C (Ascorbic acid): 2,500 mg / 100 g
Vitamin A (Retinol): 7,860 µg / 100 g (26,184 IU)
Vitamin D (Cholecalciferol) : 180 µg / 100 g (7,200 IU)
Vitamin E (dl-alpha tochopheryl acetate): 1,200 mg / 100 g (1,200 IU)
Vitamin K3 (Menadione): 36.6 mg / 100 g
Vitamin B1 (Thiamin HCl): 73.3 mg / 100 g
Vitamin B2 (Riboflavin): 36.63 mg / 100 g
Vitamin B3 (Niacinamide): 117 mg / 100 g
Vitamin B5 (d-Pantothenic acid): 146.5 mg / 100 g
Vitamin B6 (Pyridoxine hydrochloride): 36.6 mg / 100 g
Vitamin B12 (Cyanocobalamin): 220 µg / 100 g
Folic Acid (Folate): 9.16 mg / 100 g
Biotin (D-Biotin): 3.0 mg / 100 g
Choline chloride: 175 mg / 100 g
Chromium-enriched yeast: 3,750 mg / 100 g
Calcium: (calcium carbonate, mono-calcium phosphate): act. 2,870 mg Ca / 100 g
Phosphate: (mono-calcium phosphate) : act. 2,040 mg P / 100 g
Magnesium (Magnesium Oxide): 3,417 mg / 100 g (act. 1,982 mg Mg)
Potassium chloride: 5,200 mg / 100 g (act. 1,300 mg K)
Sodium chloride: 2,860 mg / 100 g (act. 1,830 mg Na)
Manganese proteinate: 781 mg / 100 g (act. 117.2 mg Mn)
Zinc (Zinc proteinate): 977 mg / 100 g (act. 146.5 mg Zn)
Iron (Iron proteinate): 146.5 mg / 100 g (act. 22 mg Fe)
Copper (Copper proteinate): 440 mg / 100 g (act. 44 mg Cu)
Sodium selenite: 2 mg / 100 g (act. 892 mcg Se)
Molasses Powder: 6,000 mg / 100 g
----------------------------------
Health Canada registration: VHP NN.A6W4